Patience Jonathan's Abuja Property Marked For Demolition
|
Nigeria's former First Lady, Mrs. Patience Jonathan's land in Abuja, has been marked for possible demolition by the Federal Capital Territory (FCT) Administration.‎
The property sitting on a large expanse of land, opposite the National Health Insurance Scheme (NHIS) headquarters in Jabi, Abuja, said to belong to the former first lady.
The Economic and Financial Crime Commission (EFCC) had, in June, sealed the multi-billion naira property. It was marked "keep off under Investigation" by the anti-graft agency.
Officials of Development Control, a department under the Abuja Metropolitan Management Council (AMAC), disclosed to DailySun, that the erection of the multi-billion naira property was a contravention of development control laws in the FCT, as it was sitting on a green area.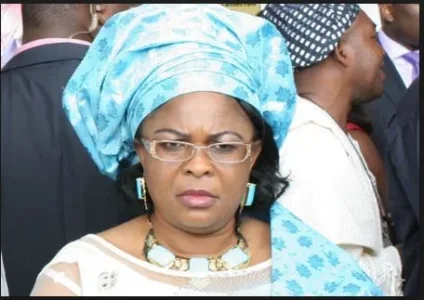 Referring to the former First Lady's property, a director said: "That place is a Green area, and the property on it looks like a hotel. And you can imagine the deceit there, the signboard outside the property indicates that it is a foundation or an NGO home (A. Aruera Reachout Foundation/Women for Chang and Development Initiative), but the real property inside is something else."
The source also alleged that an FCTA official, a certain Deputy Director of the department, who visited the place last month for inspection, was allegedly assaulted by thugs.
Mrs. Jonathan has been in a running battle with EFCC since her husband, Goodluck Jonathan, left office in late May, 2015.
Source:
naijaparrot.com
AD:
How I make N225,000 Naira From the Internet Every Month
AD:
How I Cured My Weak Erection Naturally - Samuel Ulani
AD:
LOOKING for a JOB? Submit your Email. CLICK HERE
Join our TELEGRAM channel for daily updates: https://t.me/naijaparrot
Are you On Twitter? Follow @naijaparrot1 for news and job updates. For jobs updates only, follow @naijajobfinder
Join our TELEGRAM channel for daily updates: https://t.me/naijaparrot
Are you On Twitter? Follow @naijaparrot1 for news and job updates. For jobs updates only, follow @naijajobfinder