"Any pastor who divorces his wife and remarries another woman has no business on the pulpit" – Nigerian pastor says
|
A Nigerian pastor identified as Mekaowulu Izuchukwu, has sparked up a lot of reactions on social media after he said that,pastors who divorce their wives can't continue to do the work of God.
He made this statement in a Facebook post he shared on the platform.
In his words, "Any pastor that divorced his wife and marries another person has no business on the pulpit of God, pastoral work begins at home".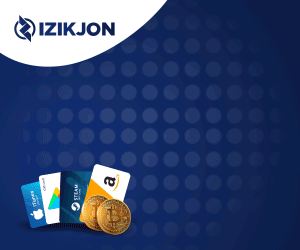 According to Izuchuckwu men of God who cannot keep their homes, can't handle the business of God.
He added that, a man of God has to wait for his estranged wife to return to him even if she is the one that walked out of their marriage.
Izuchuckwu's statement has stirred up a debate as many Facebook users took to the comment section, to state their stance on the topic.
A Facebook user,Alexander Ibrahim Nuhu said he disagreed with the pastors statement and quoted a bible passage to back up is claims.
In his words,
"I disagree with u in some instance, by the way, look at the bible
1 Corinthians 7:15 But if the unbelieving depart, let him depart. A brother or a sister is not under bondage in such cases: but God hath called us to peace".
Another user, Pan Andrews said that,
"I agree. But what if a pastor whose wife leaves him and refuses to reconcile? I saw this happen to a minister I knew…?
The clergyman responded by saying, a pastor has to endure whatever marital challenge is thrown at him, adding that its part of his temptation.
In his words,
"its part of his trials and temptations he has to endure, it happened to Benny Hinn, but after many years his wife came back, so he should be patient and by God's grace, he would overcome, let him never consider remarrying".
See screenshot of his post and reactions below,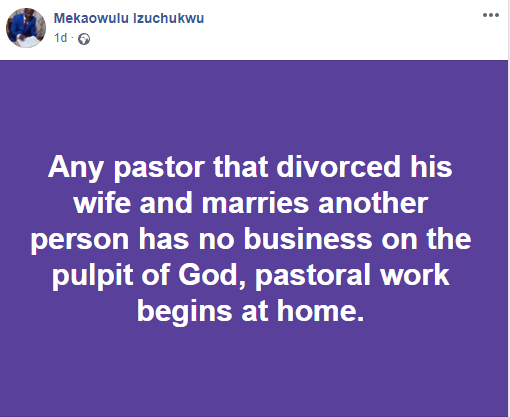 READ: How to Make Money Without Doing Anything
Follow Us for Daily Naija News:
Twitter:
Follow @naijaparrotng
Telegram:
Android App:
Facebook: