Heineken Marks 150th Anniversary With 'Good Times' For Consumers
|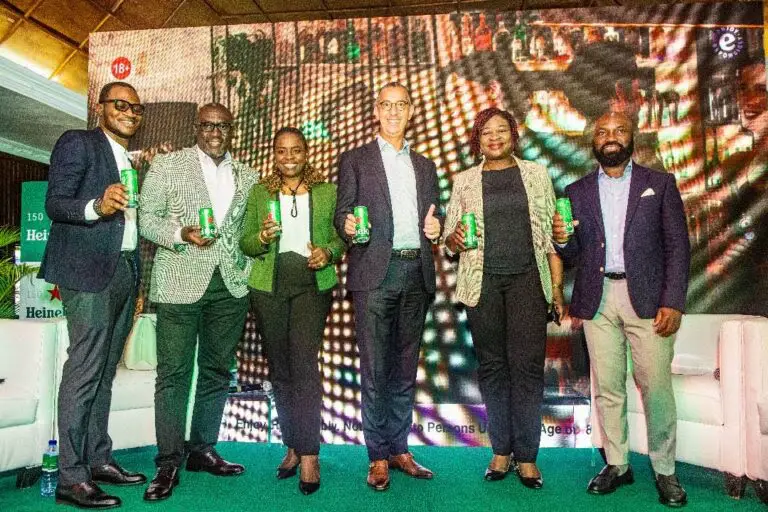 Heineken®, one of the world's most recognised beer brands, is marking its 150th anniversary with an unconventional celebration of the many ways the brand has been nicknamed, misspelled or mis-served over the years.
The celebration is to showcase how good times and sparking true connections over a beer are, in the end, what matters most.
Freddy Heineken's famous words "I don't sell beer, I sell gezelligheid" have never rung so true. "Gezelligheid" translated to that feeling of good times, something that has been at the heart of the Heineken® brand for the last 150 years.
To celebrate this milestone anniversary, Heineken® is putting good times front and centre of its global birthday festivities.
At a Press Conference Thursday to announce plans for the anniversary in Lagos, Sampson Oloche, Portfolio Manager – Premium, Sessionable & 0.0 Lager, Nigerian Breweries Plc, said, "In celebration of our 150th anniversary and our deep ties to Nigeria, we have exciting plans specifically designed for our Nigerian consumers.
"We will be organizing events in key cities across the country, where our valued consumers can come together and experience the true essence of gezelligheid. These celebrations will showcase the vibrancy of the Nigerian culture, featuring live music, entertainment, and unforgettable moments that capture the spirit of Heineken.
"But that's not all. We are also planning massive rewards for our loyal consumers, media partners, distributors, and retailers who have been instrumental in our journey. We recognize and appreciate their unwavering support, and we want to celebrate them by offering exclusive experiences, exciting prizes, and special recognition for their contribution to our success."
Of course, good times have changed over the 150 years of Heineken®'s existence and will continue to do so, but their importance in people's lives have not.
Recognising this and as part of the anniversary celebration, the Heineken® brand has worked with academics to better understand the ingredients that are needed to deliver that feeling of "good times" in the modern day; a surprisingly under-studied human need.
Marking a turning point in the brand's history, Heineken® has decided to evolve the way it measures success – focusing not just on the volume of beer it sells but also the good times it delivers for its customers in over 190 countries.
Hans Essaadi, Managing Director and Chief Executive Officer, Nigerian Breweries Plc, said: "As we celebrate the 150th anniversary of the Heineken brand, we remain committed to strengthening our presence in Nigeria and continuing our journey of fostering positive change.
"We look forward to building on our legacy and creating more opportunities for growth, collaboration and shared moments of joy with Nigerians. To express our gratitude to our loyal fans and consumers in Nigeria, we will be unveiling a series of anniversary celebrations, kicking off this July 2023. These events will be a demonstration of our commitment to spreading the spirit of good times and embracing the gezelligheid lifestyle that Heineken represents!"
To help bring the brand's commitment to good times to life, the anniversary's tongue-in-cheek ATL campaign takes viewers on a journey around the globe to embrace all the different ways people adapt and enjoy social moments and memories with Heineken® – ranging from an incorrectly spelt tattoo of the logo to a Heineken® Original being served with a lime, straw and ice.
The light-hearted video sees the brewer celebrate the good times it provides – even if the way consumers spell or enjoy it isn't 100% correct or as originally intended.
To further poke fun at itself, Heineken® will replace its logo with a number of alternative spellings it has seen over the years, appearing across all of Heineken®'s social media accounts and website pages, as well as on several new electric lorries.
The post Heineken Marks 150th Anniversary With 'Good Times' For Consumers appeared first on Complete Sports.
Get Paid to Read and Share Posts. Earn Daily Income with Your Phone or Laptop (CLICK HERE)

READ: How I Cured My Weak Erection and Quick Release
Follow Us for Daily Naija News:
Twitter:
Follow @naijaparrotng
Telegram:
Android App:
Facebook: