"Uti is bisexual and treats men with more respect" – Lady who accuses ex-BBA winner, Uti Nwachukwu of raping her, says
|
The allegations of rape and sexual assault by male celebrities seems to be never ending in the wake of the #SayNoToRape stories that's been rocking social media for a while now.
As rape victims begin to speak out on the ordeals they faced with a forceful male individual, a handful of male celebrities are not left out in the stories.
While it may be hard for some of these rape victims to come out to call out celebrities who forcefully had their way with them, some have found the courage to do so and social media is helping amplify their voices.
In a new development, a lady, Kambili Korie on Twitter, has in a series of tweets shared her experience with former Big Brother Africa winner, Uti Nwachukwu, three years back.
While claiming that the now TV presenter raped her in the year 2017, she went on to allege that he's bisexual and treats males better than he does females.
Read her tweets below ;
I said to myself, "NOW IS THE TIME"
I have lived in torment and self blame these past three years. It was five minutes for UTI NWACHUKWU but until justice is served,it'll be a lifetime for me.

As at 2017, Uti and I were casual friend. I was an apprentice in a men's cloth shop then and that was where we met. I knew from day one that Uti was very hot tempered and should never go close to sharp objects when angered.

What I didn't know was that he was capable of sexual harassment and rape. The first time he saw me he told me I looked good and he had a soft spot for melanin skin girls. I blushed, and had to tell everyone that I got a complement from a "star"

He had a girl back then, Angela. She was pretty and melanin too. He came around with her most times and my co workers and I really loved her cos she was nice. Such that when Uti made his first advance at me, I waved him off.

Uti asked if we can be friends, I agreed. Who wouldn't want to be friends with a star? We hanged out a few times and I felt he was fun to be with. He even promised to connect me to a popular modeling agency.

The first time I went out with Uti, I told him we were just gonna be friends. I didn't want any problem with his girl because she liked me a lot and we were on the verge of becoming friends. I wasn't a virgin then.

But I had my reservations. He tried convincing me to visit him, but I told him"I don't want your girl to break my head". The common female slang then. He then asked to come to my house. I was sharing an apartment with one of my female friends.
We were actually comfortable but then I felt a little insecure aboutthe apartment. I felt someone like Uti should be welcomed in a glamorous apartment. I tried towave the idea off and told him we should just keep hanging out,but he was insistent so I gave in.

He finally came around and everything went fine. We talked, we laughed and that was it. We got closer after that day. When I realized I was beginning to develop feelings for Uti, I had to give him a little space.

He kept coming close,I kept keeping my distance. One fateful day,he came around without letting me know. My roommate wasn't home then. I was a bit angry with him for the surprise visit but I didn't consider it a big deal.

He made advances at me. Told me I was the prettiest girl he knew and that he was obsessed with me. I told him we could talk this out. He fled up. In his words "I always get what I want". And that was when he forced himself on me.

When I told my roommate about it,she didn't believe it. I told one of my coworkers, he never believed. That was when I decided I won't mention it again. Uti went ahead to tell the guy I was dating, that I have been trying to seduce him.

I've been broken since then. He made me see all men as beasts. Worse more, I couldn't speak out because nobody will believe me anyway. I see him smile on tv shows like he is an angel. He is none other but
@SirUTI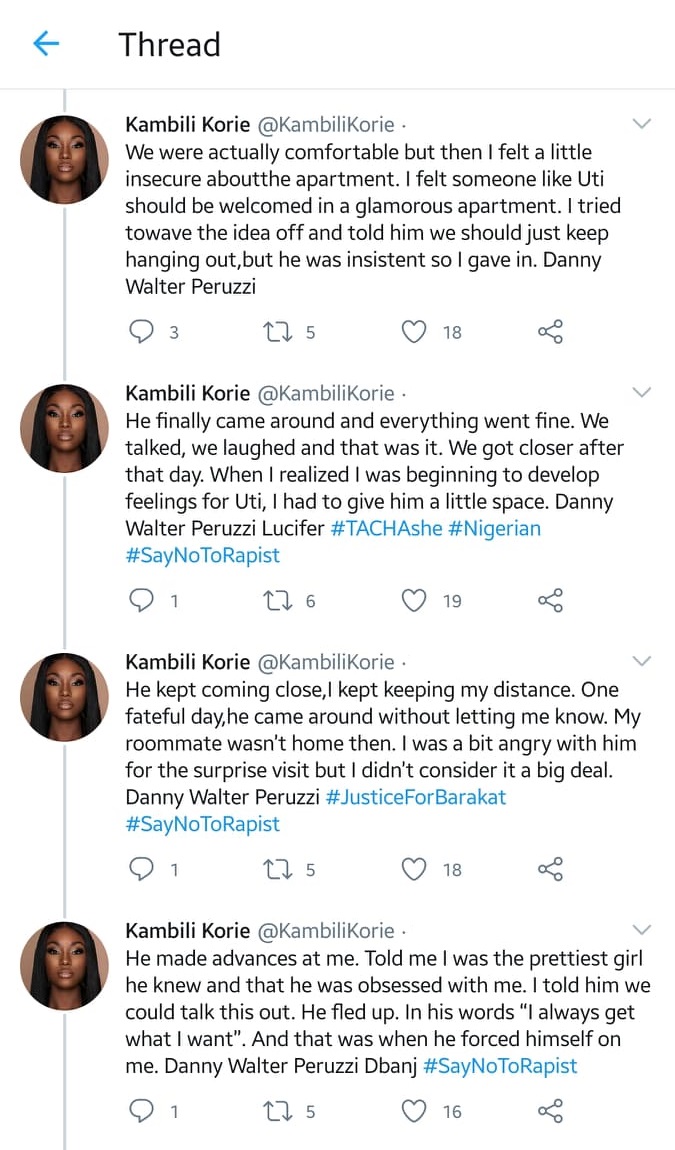 Kambili Korie went on to reveal that Uti never messaged her with his real number which is why she never got enough evidence and he threaded carefully with his actions. He shared a screenshot of an alleged chat with him where he admitted to raping her and saying he did it as a man and not because he doesn't love her.
Further investigation into her claims had us stumbling onto a tweet of the TV presenter in the same year that Kambili Korie claims to have been raped by him where he said "He'll be forceful if he loves you"
READ: How to Make Money Without Doing Anything
Follow Us for Daily Naija News:
Twitter:
Follow @naijaparrotng
Telegram:
Android App:
Facebook: